Gelato and her dear friend Eno hail from a dairy farm in North Carolina. Because of their advanced age, the girls could no longer produce milk for the dairy operation and were going to be sent to slaughter. After working for the farm producing children and milk for years, the owners were prepared to simply discard Gelato (10 years old today) and Eno (12 years old today), which sadly is a common practice at dairy farms once female goats reach a certain age and their milk production begins to decline.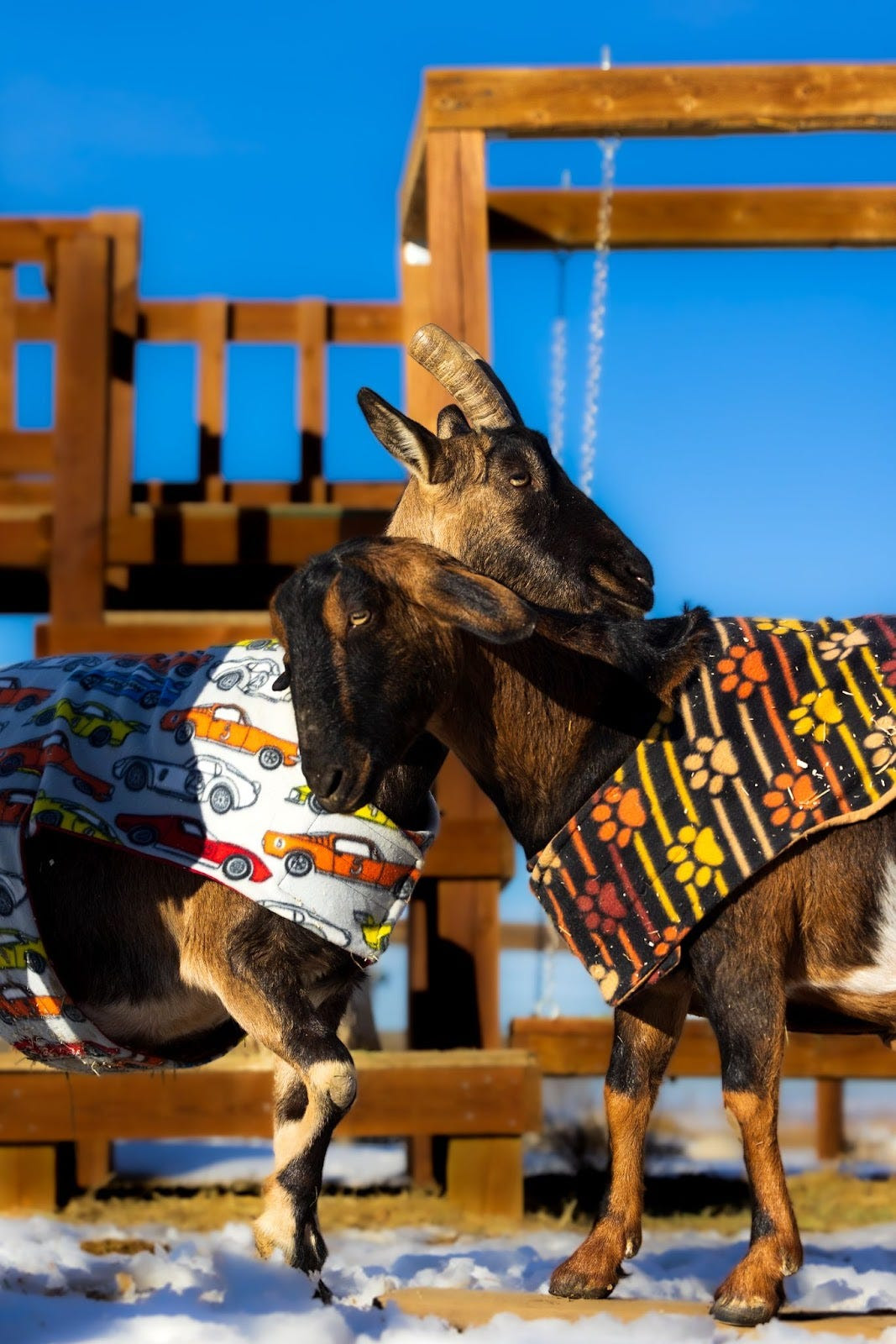 Gelato's Roadtrip to Colorado with BFF Eno
Luvin Arms Care Team Manager Jolene Wells, who knew Gelato and Eno when she lived in NC, was informed of their pending fate in the Fall of 2021, and made arrangements to fly to North Carolina and drive both goats back to Colorado to live at Luvin Arms.
Hear from Jolene below:
"Goats have always held a very special place in my heart. I grew up in a small town in North Carolina, and had goats when I was a kid. I started working on a small goat dairy in North Carolina where I met many different goats, and got to know them each as individuals. This is where I met Eno and Gelato. They are both intelligent, unique, and special girls! I was notified that they were heading to slaughter after miscarriages, and I knew that I had to rescue them."
How often does our older human population feel invisible, unviable? In fact, our elders are the cornerstone of society, passing on wisdom from hard earned real-life experience to younger generations. Just like Gelato and Eno, all retired individuals have much to offer the world.
Gelato Retires at Luvin Arms
Since arriving at her forever safe home, Gelato has become an integral part of the Luvin Arms family. She participates on Sanctuary tours, where we share her story about surviving the dairy industry, opening hearts and minds about the plight of goats living on dairy farms.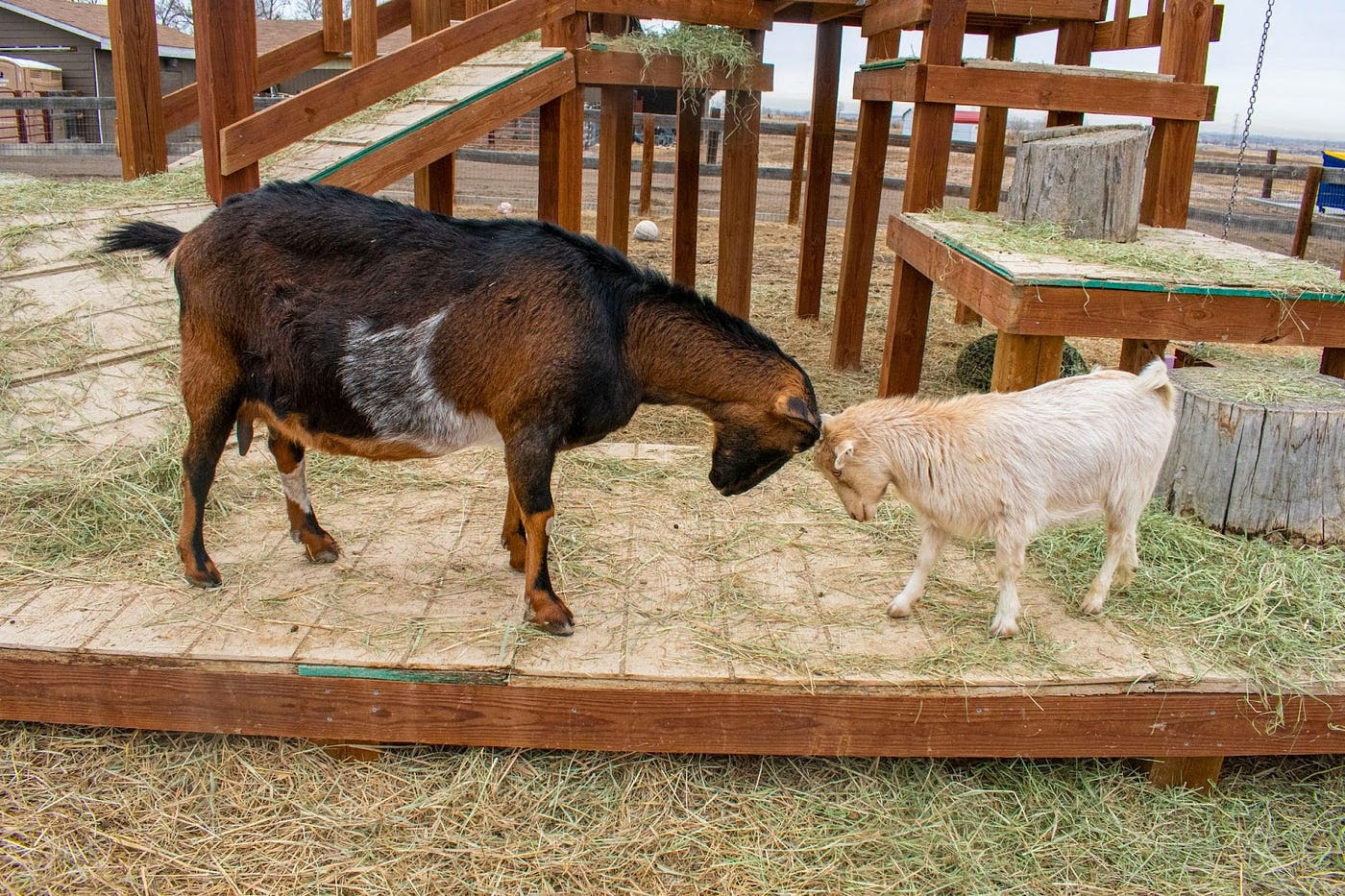 She shows our youngest goat residents, Bonzo and Lenny, how to play safely
Sanctuary guests experience Gelato's laid back and loving personality. Along with our other goat matriarchs Eno and Arya, Gelato has much to teach all of us about forgiveness and how to live life to the fullest, especially in retirement.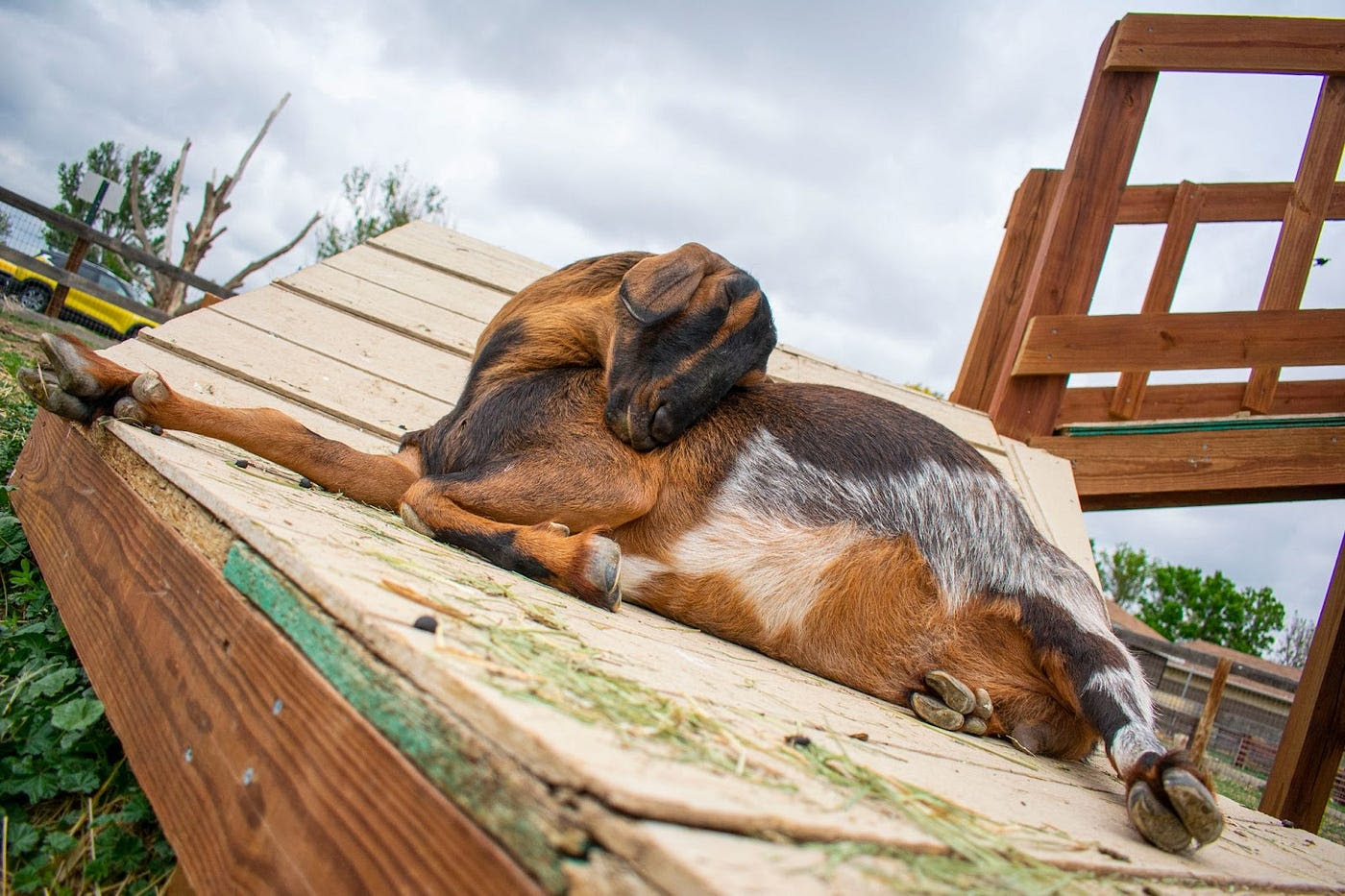 She enjoys her sweet downtime soaking up the sun's rays — and she has absolutely earned it!
Check out her video HERE.
Want to know more about Luvin Arms Animal Sanctuary in Erie, Colorado? Check us out HERE!